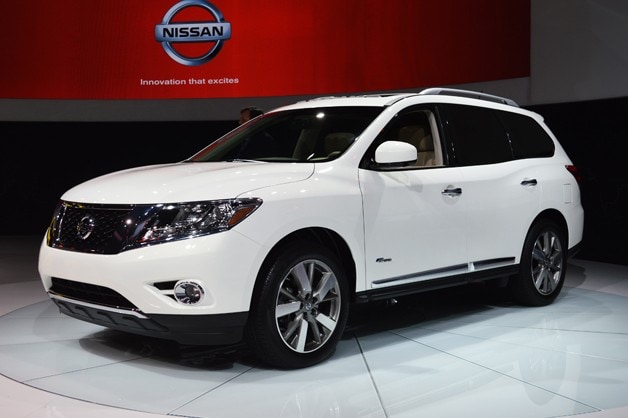 Over the last year, Nissan has drastically changed the way consumers viewed their Pathfinder offering in the SUV category. Now considered more of a crossover/SUV combination, Nissan has given its older 4x4 a complete makeover. But of course no makeover is complete without one last breakthrough, and for the Pathfinder it comes in the form of an electric motor.
Earlier in 2013, Nissan introduced the 2014 Nissan Pathfinder Hybrid at the 2013 New York Auto Show. The more economic edition of the Pathfinder has some great benefits, including an MPG rating that jumps 5 MPG in the city and 2 MPG on the highway. This will give owners a new fuel economy range of 25-28 MPG on average in Nissan's big-bodied Pathfinder, something no one would've thought possible only a few years ago.
It's clear Nissan has made tremendous strides to modernize and well-equip their brand new models this year, giving most of their franchise vehicles significant upgrades with minimal price jumps. Nissan is also continuing to give buyers great lease specials on the latest models, making it more affordable for the general public to get into modern Nissan cars. And unlike lots of other automakers, Nissan's embrace of going Green with their LEAF vehicle and EV technology has helped position themselves in a great spot heading into the future of car manufacturing.
Also worth mentioning is the great job Nissan has done marketing newer models like the Versa Note, Pathfinder, Sentra, and Altima. Next year, Nissan plans to introduce a new Nissan Rogue into the fold, and going further into the future, the company has continued to talk about advances technologically that will allow for self-driving Nissan vehicles by the year 2020.
Not too bad when you think back to only a year ago when Nissan's newest Pathfinder was a body-on-frame SUV capable of under 20 MPG on the highway.
Always get the latest news from our team at Kelly Nissan of Woburn. Visit our dealership today, located at the Junction of 93 and 128 at Exit 36 in Woburn, MA.