Brakes are such an important part of your
Nissan
vehicle, helping you slow or stop in fractions of seconds and keeping everyone in and around your vehicle safe. For this reason, do not neglect the regular maintenance of your Nissan vehicle's brakes.
Kelly Nissan of Woburn
offers Nissan certified professionals who know your brakes inside and out. Diagnosing, repairing, and replacing your
Nissan brakes
are essential to keeping your Nissan vehicle on the road and our
Nissan service center in Woburn, MA
can help you with this and much more.
Why You Should Monitor Your Brakes
Maintaining your brakes is a very simple concept - if you want you vehicle to stop and respond properly when you hit your brakes, you should always keep an eye (or ear) on your brakes. Early intervention with any brake problems will almost certainly save you more money in the long-term, with most serious brake problems costing significantly more than maintaining your Nissan vehicle brakes.
Common signs of potential brake problems include:
Squealing, squeaking, or grinding sounds
Soft brake pedal
Car pulling to one side when braking
Brake light turns on

Steering wheel vibrations

Burning Smell
Difficulty braking at all

What To Do When Your Brakes Are Failing
The most important thing to remember when your brakes are not working properly or failing is your safety and the safety of everyone in and around your vehicle.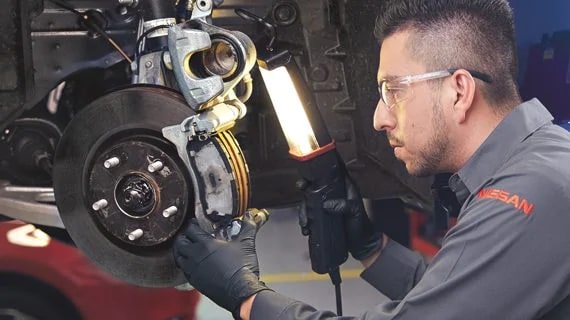 Our Nissan brake professionals at Kelly Nissan of Woburn will be able to find the best solution for you to have your car brought in for an immediate brake diagnosis and repair.